Just in time for Thanksgiving, we have rolled out several enhancements to My Status.
1. Clear Your Status — You can now clear your Facebook status right from the main My Status page.
2. Better Layout
Blank status updates or status updates that just say "is" (throwback to when that defaulted into the status update field) are now excluded from the history
Increased font size for the status message and changed the date/time to a small gray font. This provides a cleaner layout for the status history.
Changed action message to "What's on your mind?" to match the question that Facebook now asks.
Removed the default "is" in the status message since Facebook has changed how they display status updates.
Changed the "status updated" messages to display in a gray box to visually offset them from the yellow current status boxes.
3. Optionally Update only Twitter Status — Now you can uncheck a box to exclude updating your Facebook update. This was done to allow you to update only your Twitter status if you so desire.
4. Experimental Functions for Power Users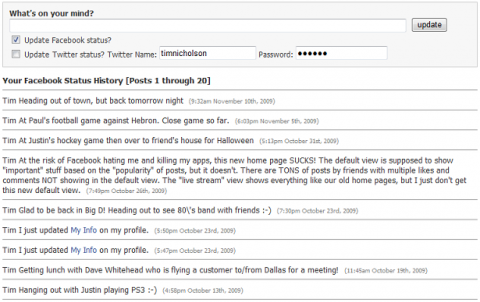 Thanks to Rachele K for providing some of these suggested updates!