We've now added the option to have a dedicated custom tab to show your last twenty Facebook status updates on your profile. To create the custom tab, go to your Facebook profile and click on the plus (+) icon at the top. That will open up a list of applications that support custom tabs. If My Status is not already in that list, start typing "My Status" in the search field at the bottom of the pop-up list.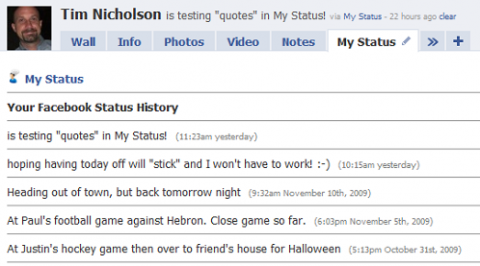 In addition, we've created a "See All" link on the smaller My Status profile box on your Wall that let's your friends click through to see all of your Facebook status history. You do not need to have the custom My Status tab setup for this to work.
Another enhancement that we made was to allow you to delete your current Twitter status as well. Please note that Facebook and Twitter handle things differently. Clearing your Facebook status still leaves that status update in history, but removes it from the top of your Wall. Deleting your Twitter status actually removes that status update from history and your current Twitter status changes to your previous status update.
Lastly, we resolved an issue where certain characters in your status looked strange when stored in Facebook. For example, quote symbols (") and some other symbols were converted to a code like ". Now the symbols should display properly in your status.
If you have suggestions for further enhancements, please post a comment here or in our My Status Discussion Forum on Facebook. Thanks!