We're now beta testing a new feature to let you place custom images, links, and text directly onto the Facebook Info Section on your profile. This lets you add just about anything you want under the standard Facebook personal information on your profile.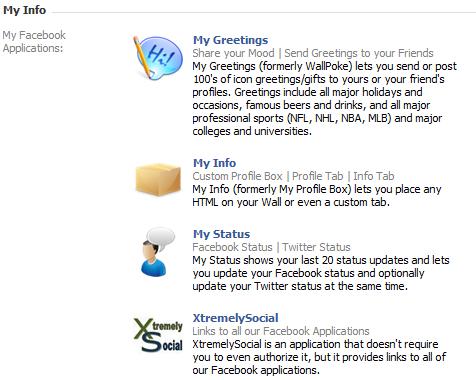 The screenshot above is an example of what I've added to my own personal profile. Please note that at this time Facebook does NOT allow this functionality for Facebook Pages, only personal profiles. They say they will be adding this feature to Facebook Pages in the near future and we'll support that as soon as they do. What better way to add "About Us", a "Mission Statement", "Owners", etc. to your Facebook Page?
Also note that this is a beta test at this point. We've enabled the functionality, but so far only I have used it. It does not have a lot of robust error checking at this point. If you get a generic error message saying you didn't format your fields properly, double check that you have filled out the Label Name and that any image and/or link URL's are valid. If you have trouble, please do NOT give up… please contact me and I'll personally help you get things working and fix any bugs that might be causing problems.