XtemelySocial.com is all about community! Log in with your Facebook ID and see your Facebook news stream! All your friends posts are right here on this site.  Also, go ahead and introduce yourself on our Community Wall.
---
Site Members
Site Members – See which Facebook friends are using our site as well as who are all the members of our website.

In addition, each site member has a profile that pulls information from both this site and Facebook. When you click on a user's profile picture, you will be taken to a profile page with their current Facebook status and other information. For example, here is my profile page: Tim Nicholson
---
Your Facebook Activity Stream
Your Facebook Activity Stream – See your news stream, just like on Facebook itself. Click on a friend to see their wall. Update your status or like or comment on any post.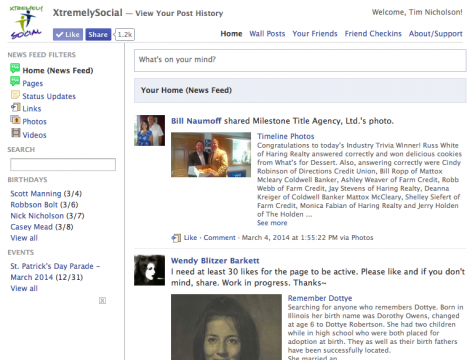 ---
Write on Our Community Wall
Our Community Wall – Our wall is just like the wall on Facebook. In fact, you can even publish your comment over to your Facebook stream to share with your friends. Feel free to use it like a guestbook or to provide feedback about our website.
---