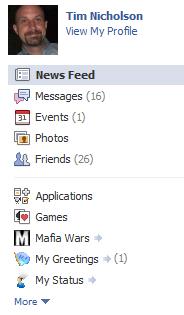 I have now started to update My Greetings with support for the brand new Facebook "Application Dashboard" that was released in part this month. The main difference you'll notice at this point is that when someone sends you a greeting, you'll  see a counter show up on your Facebook home page next to the My Greetings application.
I've also updated the links in your My Greetings history and friend birthday lists to link directly to that person's profile publisher with My Greetings already loaded. This makes it much easier to quickly send a greeting to a friend, especially considering that still can't  send greetings directly from the My Greetings home page. I'll be working on getting that fixed after updating the application to more fully support the Applications Dashboard.
The Applications Dashboard is supposed to allow for three kinds of "news and activity" related postings. I have implemented the code for two of them, but their are serious bugs in the Facebook developer API's that are effecting all applications such that these news/activity items do not actually show up in the dashboard. Facebook is aware of these issues and is supposedly working on a fix.
Since I've already put the code in place, as soon as Facebook fixes the issue with them not displaying, you should immediately start to see the following:
1. You should see a message under the  My Greetings icon in the dashboard informing you that you have received a greeting from a friend.
2. When viewing the applications that your friends are using in the dashboard, you should see a message about what greetings they have sent or received.
The third type of news item in the Dashboard are global application messages. I have not yet implemented that, but plan to do so at some point. For now I'm still displaying application announcements on the My Greetings home page and you should also still be receiving them in your Facebook news stream under "Updates", if you have become  a fan of My Greetings.
Please check out the related articles below for more information about the new Facebook home page and apps and games dashboards.